I think that it is very important to minimize the amount of waste that we generate. One way that I can do this is with our daughter's lunch. K- will be starting Kindergarten on August 26. (AAAARRRRRGGGGGHHHHH! Can you see my mommy heart attack?!) Our public school system has been provided with a grant that allows them to serve no cost meals to all public school children from K-5th grade. The meals are well balanced, and not the same ole stuff that I ate as free lunches. They have chef salads, carrot sticks, fresh fruit cups, vegetable plates . . . healthier offerings than what we had. Even still, I'm not under the illusion to think that K- will be wanting to eat the school lunch option every single day. The public school lunches are served on sectioned, reusable trays with silverware. Drink containers are disposable, but by and large, the lunches themselves are pretty low on disposable waste.
We have a lunch kit for K-. We purchased an LL Bean lunch kit last year and have taken it on different trips.
In it, we have K-'s Klean Kanteen to be filled with cold water, ice cubes and a frozen lemon wedge, a cloth napkin (we have many for her to choose from), silver ware, a thermos container to keep hot food hot and cold food cool (like grapes and sliced fruit) with the use of reusable ice cubes and a small Rubbermaid reusable snack container. It is big enough for a snack, 1/2 of a sandwich, I'll be able to send some noodle-y soup in her thermos (to keep hot for up to 6 hours), macaroni and cheese or other nice, healthy things.
The "kanteen" covers are to keep K-'s drink container from sweating all over her lunch box. I think that she'll think that they are pretty spiffy. I also have reusable straws for her to use, if she'd like.
I had a coworker say, "Oh, she'll probably accidentally throw that away." My response? There is no need for her to throw anything away. It is all waste-free packaging.
So snackwise, I have a few suggestions. Here goes:
Granola (from New Vegetarian Cuisine)

3 cups quick-cooking rolled oats
1/2 cup coarsely chopped peanuts*
1/4 cup plain or honey flavored wheat germ
1/4 cup sesame seeds
2 T grated lemon peel
2 T smooth peanut butter*
1/4 cup maple syrup
1/4 cup thawed frozen apple juice concentrate
2 T honey
1 1/2 t pumpkin pie spice
1 cup dried currants
1 cup coarsely chopped mixed dried fruit
--I'll admit first off that I tweak this recipe. I'll use different oats. I've skipped wheat germ. I've put raisins or craisins in instead of currants. I've skipped the lemon peel. I've followed the measurements and cooking times, though. With that said, here are the directions for prep and cooking:
Preheat oven to 350 degrees. Coat a cake pan with non-stick spray. Add the oats, peanuts, wheat germ, sesame seeds and lemon peel to the pan; toss to combine.
Place the peanut butter in a small bowl. Microwave on high for 1 minute to melt. Stir in the maple syrup, juice concentrate and honey. Drizzle over the oat mixture. Mix well, then spread evenly in the pan.
Bake for 20 minutes, stirring twice during that time to prevent burning. Sprinkle with the pumpkin pie spice and toss to mix well. Bake for an additional 5 minutes, or until golden.
Transfer to a large, sealable bowl. Stir in the currants and fruit. Cool completely. Store tightly sealed in the refrigerator.
Whatever-is-in-the-Cupboard Trail Mix

Pretzel balls/sticks/knots
Dried fruit (raisins, craisins, apples, banana chips)
Goldfish (cheddar, chocolate or graham)
Yogurt raisins
Soy nuts
Peanuts*
I'll combine a bunch of different things that we have to make a tasty treat.
* ALLERGY ALERT- subject to change, depending upon the allergies of those in K-'s class. Honestly, any ingredient is subject to change because of that. Janeen at Our Story is our cousin and she has a son with severe food allergies. She has done a good job of teaching us about food allergies and trying to keep others around us safe. I will absolutely NOT send anything in my child's lunch that will be a potential trigger for any child in her class (or school.) If there is a peanut ban, there are other products that I will happily substitute. Another child's health and well-being is far too important to me (J- is anaphylactic) than being insistent that I include a particular trigger food item in my child's lunch. For more information re: food allergies, please visit Janeen at
Our Story
. Feel free to click on Wego Health on her sidebar, as well. She is always so kind in answering any question that I have.
Smiles in my day:
- My interview with Cleveland Magazine was done this AM via phone. I really hope that I did well by my bosses. It kind of seemed like the interviewer was a little all over the place, giving my answers a somewhat disjointed feel. I tried to make things clear and creative. I am almost 100% positive that I will end up in print within the article. She has asked that photos be sent along, so maybe those will be included, as well. The gallery that I work at is pretty well known across the nation, so it really was an honor to be able to possibly represent the gallery in a bigger area publication.
- The whisper technique has been adopted by my husband, as well. Much whispering was done to K- this evening, which calmed her tired 5 year old soul. In fact, she climbed up on the couch and started talking to me in my ear, rather than screaming at me. Little girl just gets so blasted tired that she just falls apart. She feeds off of me being frustrated and it only escalates. Oh praise Jesus that the whispering is working.
- Laurie made the Klean Kanteen covers for K-! What a wonderful friend she is. She made different covers that are all reversible and match her lunch kit.
A quick plug for Jolanthe-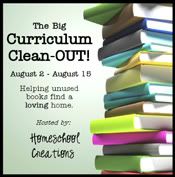 Though I don't homeschool, I do a lot of supplementary school work with K-. I've found a lot of great items that I could really use.