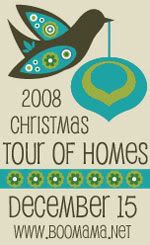 Why hello! Welcome! Drive on up. Feel free to park behind me. We're not going anywhere this evening, because we are expecting company. You are the first to have arrived.
Come on up. Peer into the window. Don't worry. We're all dressed. We were expecting you.
Ah, give that door a good hearty knock. We have an inoperable door bell (by choice), so you'll have to knock hard, please.
Hey! Glad that you are here. So, you want to take a look around? Let us show our tree to you. There she is. Hubs fixed the lights at the top. (The top quarter of the tree went out last weekend.) I didn't exactly get to fix the top back to the way I had it. No time! But, enjoy it anyhow. See if you can find the pickle!
Let me show you some of our favorite ornaments. I'll start with my girls. We have K-'s first Christmas ornament and Bailey's ornament is off to the left. I bought the metal flying pregnant mama with a tip that I received that Christmas season that I was pregnant.
This is an ornament that my oldest and dearest friend gave to me when K- arrived.
Had to put this one in there. Hubs fishes. We have many fishing ornaments on our tree.
K- made this one. Of course, we have many handmade K- ornaments on our tree, but I picked this one. So simple but so darned cute!
Here is our nativity. It lives under the tree. K- moves the pieces all around. This is how she has it arranged right now.
Hubs has his Department 56 Dickens Village. He sets it up every year. This year the cat decided to jump up and try to look out the window. She took out one of the turtle doves on the clock tower. He was sad. So is the gentleman pulling the canal boat.
Have you sent us a card? Well, certainly you have! Look on the wall above the couch and you'll find it hanging there!
Kick back and watch the people skate around the pond. They'll do it for hours and never tire. I would at least get winded. Not them. They must do Pilates or something when I'm not watching them.
When you are finished with the skaters, feel free to turn Santa's Workshop on. The little people inside are hard at work. They'll even play a tune for you.
I have a love for Rudolph, specifically the doll. Hubs has bought me many of the Rudolph figures over the years, so I decided to share a few with you. Don't get too excited when you look behind them and see the bottom photo stamp of the Boston Marathon. I didn't run it. In fact, I don't run unless I'm on fire and even then I hear you aren't supposed to. Nah. Hubs ran his sister in for the last 3 miles or so. They kind of frown on running bandit and we were surprised that he managed to cross the finish line with her. Those are the feet that you see. They are not mine. I was happy for them though.
By the way, there isn't some evil silver bird getting ready to peck Dolly to death. That's just a pewter sculpture I have. Unfortunately, the flamingo sculpture looks like it is ready to take out Rudolph and his whole Island of Misfit Toys. Sorry about that!
You haven't seen a chimney for Santa to come down? No worry! We have a Santa key. See? We hang it on the outside door for Santa. That's his magical key to get in. It only works for Santa.
Let's take a walk down the hall, shall we? We have our stockings hung by the coat closet with care in hopes that Saint Nicholas soon will be there. Yes, there are only three humans in the house, but Smudge (our Maine Coon cat) and Spike (our Green Iguana) have stockings, too.
Why don't we take a spin through K-'s room? She has her own little nativity on the top of her bed. Even the snowman snow globe is adoring Him.
We have a tree on the top of her dresser. We have two of them. One is in the bathroom, but we'll skip that. K- is in there right now. But in case you wondered, they were made by Sunapple and Company in Columbus. It is a great organization giving quality employment to those with developmental disabilities.
Passionworks Studios
in Athens OH is another great studio employing the same fine folks. Give 'em a look-see if you have time.
I should bring you to the kitchen to see all of the hard work that K- and her daddy were up to. See, last night I started on our gingerbread/graham cracker house. I was a bit over zealous, ignored common sense engineering and my house collapsed. It looked like a Katrina victim. Hubs took the helm, did a bit of wall and roof reinforcement and came up with this:
He and K- worked hard on decorating. Just look at those handies. She couldn't help but to "lick the frosting off" so look at that face!
Before you leave, feel free to take a cookie. We have gingerbread and lemon drop on the rack cooling.
Thanks for coming by! Do stop by again!